The Real Health Benefits of Dog Therapy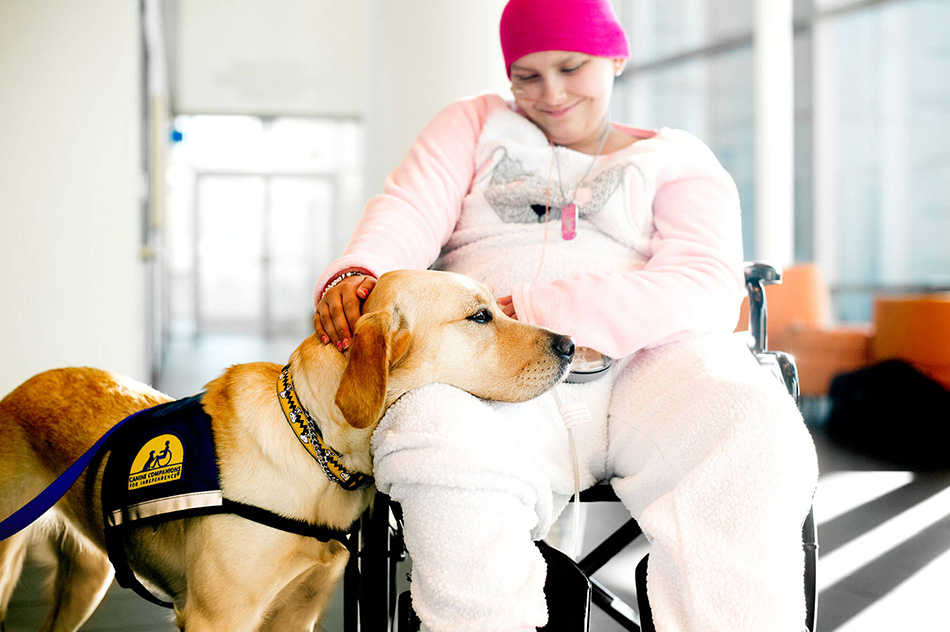 The bright light of Anna's smile could be seen from across the lobby at UCSF Benioff Children's Hospital San Francisco. Sitting up in her wheelchair, her energy completely changed as soon as she saw child life specialist Eileen McCree round the corner with her furry new partner, Kimono. At McCree's "visit" command, Kimono laid her head on Anna's lap, and the girl crumbled over Kimono in a warm, fuzzy hug.
Kimono is the newest addition to the hospital's dog therapy program, a part of Child Life Services. The 2-year-old yellow labrador/golden retriever mix is a working professional, purposefully bred and exhaustively trained as an expert facility dog by Canine Companions for Independence (CCI). CCI is the nonprofit organization that provided Kimono to UCSF free of charge. Assigned to handler McCree in the pediatric oncology unit, Kimono visits with children and provides cuddles and companionship, along with the specialized care that only a dog can provide.
For many of my patients, seeing Kimono is the bright spot in their day of treatment.

Eileen McCree, child life specialist and Kimono's handler
Combining the expertise of a child life specialist with a highly trained facility dog creates magic for our young patients. "Kimono can have a huge impact on a patient's recovery," says McCree. "She encourages difficult physical therapy, making it fun and providing a little extra comfort just when it's needed most. For many of my patients, seeing Kimono is the bright spot in their day of treatment."
The scientifically proven health benefits of animal-assisted therapy go well beyond the unconditional love received from a furry companion. Animal-assisted therapy can improve blood pressure and cardiovascular health, increase endorphin release, encourage communication and movement, and decrease feelings of isolation and depression. Kimono performs more than 40 commands specifically designed to engage patients in activities that stimulate healing and recovery and alleviate pain. Despite the impact of the therapy and its benefits, few insurance companies will cover the cost of child life services or animal-assisted therapy, so UCSF's program is fully funded by private donations.
"The dog therapy program is an important part of the specialized, personal care we provide at UCSF," says Michael Towne, manager of UCSF's Child Life Services, "In some of the most stressful times for a family, the gentle and tender care provided by a beautiful dog who is just quietly present can be a powerful form of therapy."
If you would like to make a difference in a child's life by assisting Kimono and the dog therapy program at UCSF Benioff Children's Hospital San Francisco, please consider making a contribution to support her lifesaving work.